Start the year off right, explore healthier products!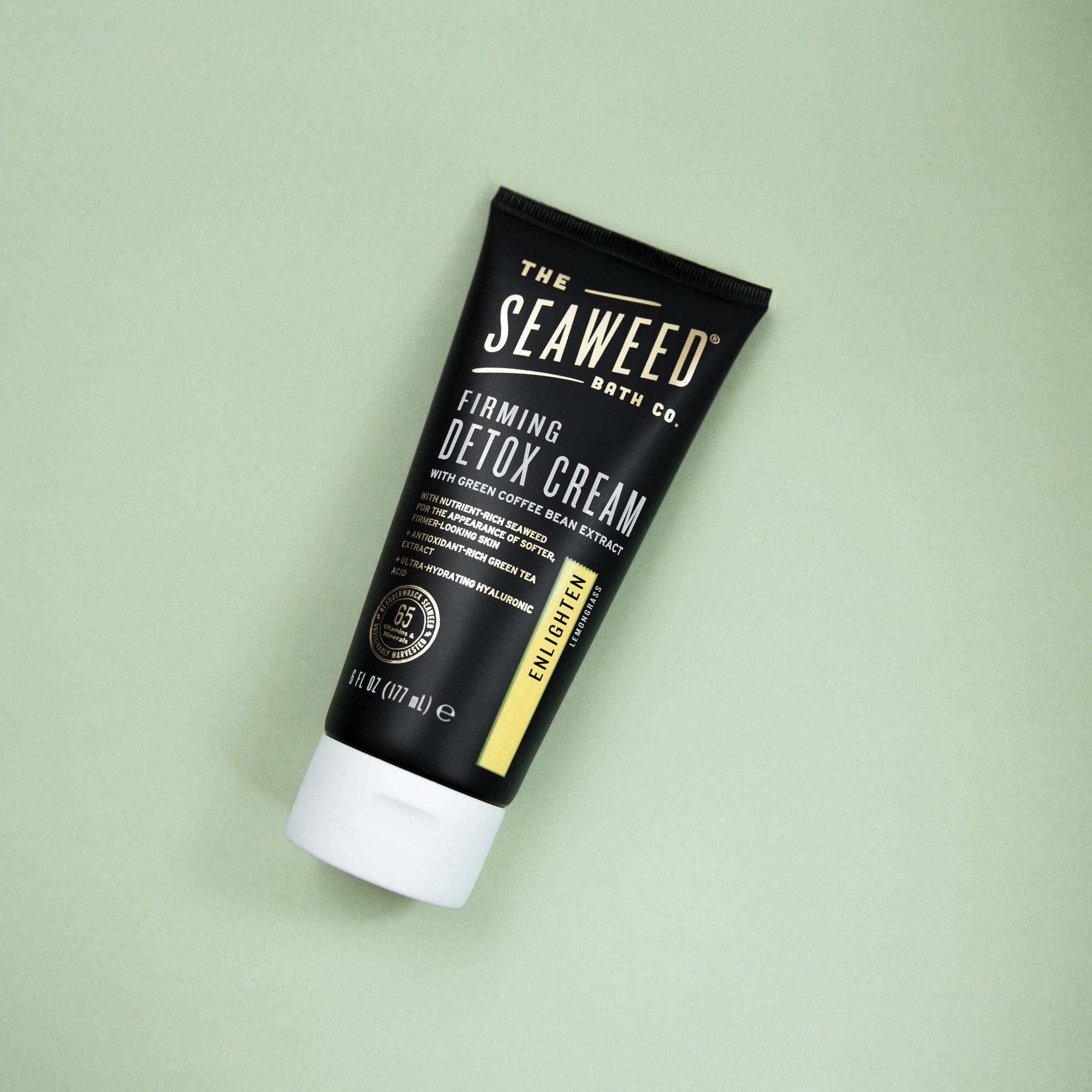 The Seaweed Bath Co.
Firming Detox Cream

The Seaweed Bath Company's Firming Detox Cream deeply moisturizes and detoxifies for smoother, firmer-looking skin. Perfect for all year round!
Organic, sustainably-harvested bladderwrack seaweed with 65+ vitamins and minerals naturally detoxifies and promotes skin elasticity
Antioxidant-rich green coffee bean extract helps to detoxify and protect the skin against damaging free radicals
Detoxifying green tea extract, rich in potent antioxidants, protects and moisturizes Hyaluronic acid locks in moisture while strengthening the skin's natural barrier.
Leaping Bunny Certified, Vegan, Cruelty Free, Gluten Free, Paraben Free
Tip: Use daily for optimal benefits.
Aqua (Water) with Fucus Vesiculosus (Bladderwrack Seaweed) Extract, Caprylic/Capric Triglyceride, Carthamus Tinctorius (Safflower) Seed Oil, Vegetable Glycerin, Stearic Acid, Glyceryl Stearate, Stearyl Alcohol, Butyrospermum Parkii (Unrefined Shea) Butter, Coffea Arabica (Green Coffee Bean) Extract, Camellia Sinensis (Green Tea) Leaf Extract, Sodium Hyaluronate (Hyaluronic Acid), Theobroma Cacao (Cocoa) Seed Butter, Caffeine, Cymbopogon Schoenanthus (Lemongrass) Oil, Rosmarinus Officinalis (Rosemary) Leaf Extract, Ethylhexylglycerin, Allantoin, Tocopherol (Natural Vitamin E), Polysorbate-80, Aleurites Moluccana (Kukui) Oil, Citrus Aurantium Dulcis (Sweet Orange) Oil, Phenethyl Alcohol, Panthenol, Carbomer, Citrus Paradisi (Grapefruit) Oil, Mentha Piperita (Peppermint) Oil, Coriandrum Sativum (Coriander) Extract, Citrus Limon (Lemon) Oil.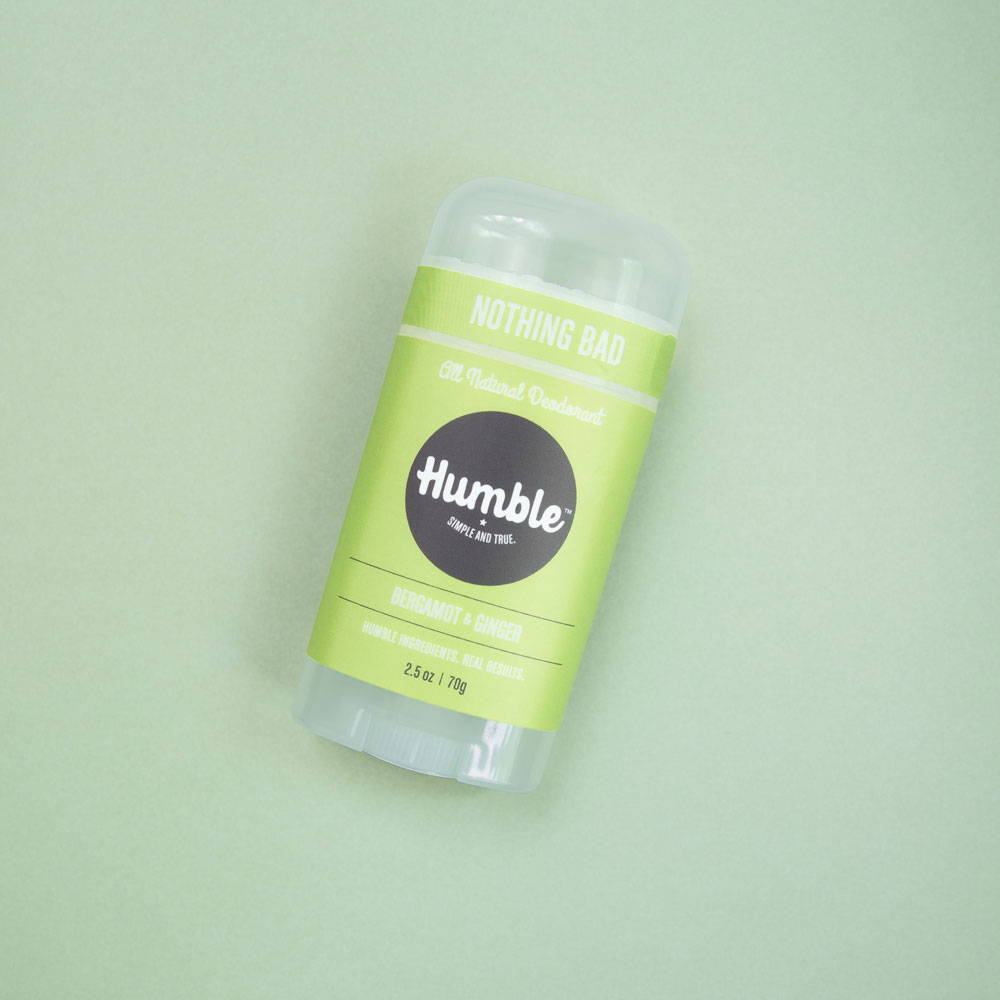 Humble Bergamot & Ginger Deodorant
The Humble Bergamot & Ginger Deodorant helps you to greet the day with the a warm, energizing vibe through it's combination of citrus and ginger. The essential oils in this deodorant have natural and soothing healing properties that are beneficial for your body and mind.
It also has the fewest ingredients of any deodorant on the market!
It is effective and safe, containing no aluminum or parabens while still keeping you dry and free of offensive odors.
Tip: Not all natural deodorants work, we have tried many! This one does, and you can rest assured knowing all of these ingredients are good for you.

Fractionated coconut, organic corn starch, organic beeswax, all natural baking soda, essential bergamot & ginger oil.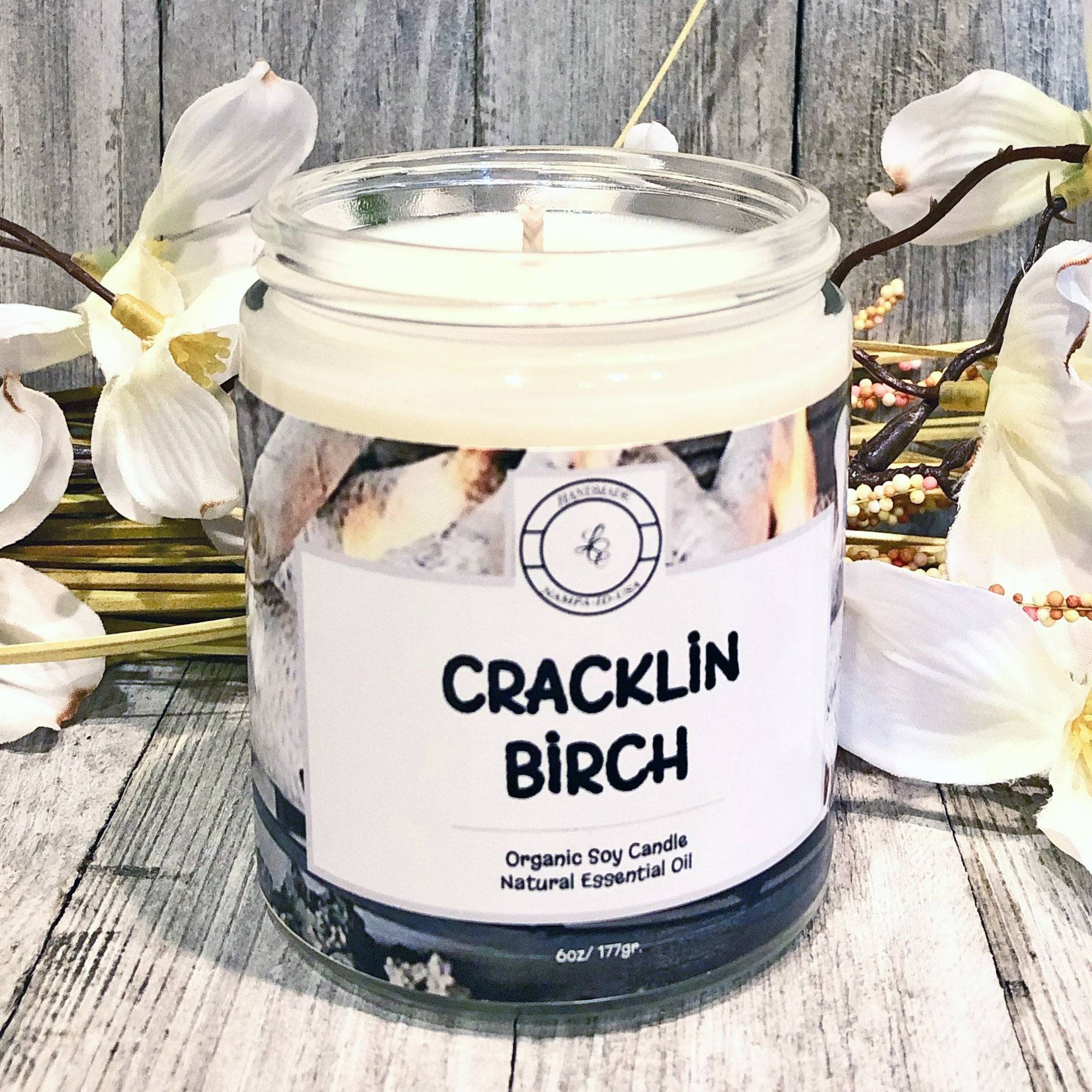 LC Candle Cottage
Cracklin Birch Organic Soy Candle
This lovely candle is made with 100% Organic Soy Wax (no additives) & 100% natural essential oils.
It is wicked naturally with a cotton wick, for a clean and long lasting burn. There is also no color added for a soft & beautiful glow. Nature's best!
Tip: Light this candle and enjoy some peace and sanctuary in your home.

Bergamot, Orange, Lemon, Gernanium, Lily, Rose, Patchuouli, Veviter, Tonka Beans, White Birch, Cypress, Eucalyptus, Peppermint.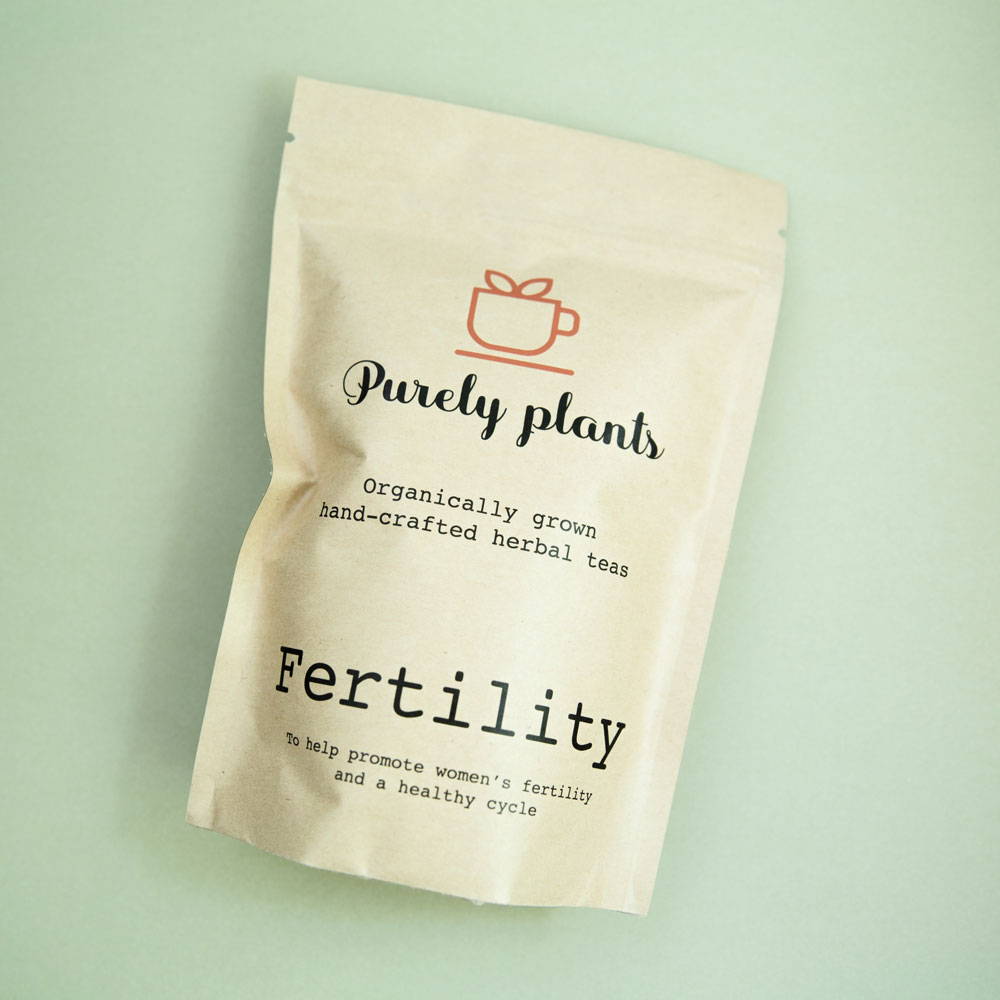 Purely Plants Fertility Tea

It's that time of year to get under a cozy blanket with a warm cup of tea!
Purely Plants Fertility Tea helps promotes fertility and a healthy cycle.
This tea is organically grown, handcrafted, and made with the finest herb ingredients.
Naturally caffeine free
Contains 16 pyramid tea bags
Tip: Place tea bag in a cup of boiling hot water and allow to steep for 3-4 minutes before drinking. Use consistently for optimal results.

Dong Quai - Promotes blood flow to the uterus and supports a thick uterine lining ideal for conception
Oatstraw aka Avena Sativa - Supports a strong ovulation by reducing cortisol levels

Red Clover - Improves circulation, provides vital phytoestrogens, supports liver function, promotes cervical mucus

Spearmint - Helps decrease harmful androgens in women, especially PCOS sufferers

Chasteberry aka Vitex - Supports the pituitary ovarian axis to promote strong and regular ovulation and normalizes cycle lengths

Nettle Leaf - Helps support healthy adrenal glands which is vital for conception, and provides iron, vitamin K, and aids in proper liver function which is vital for hormonal balance

Raspberry Leaf - Tones the muscles of the pelvic region, and promotes uterine health and a healthy uterine lining.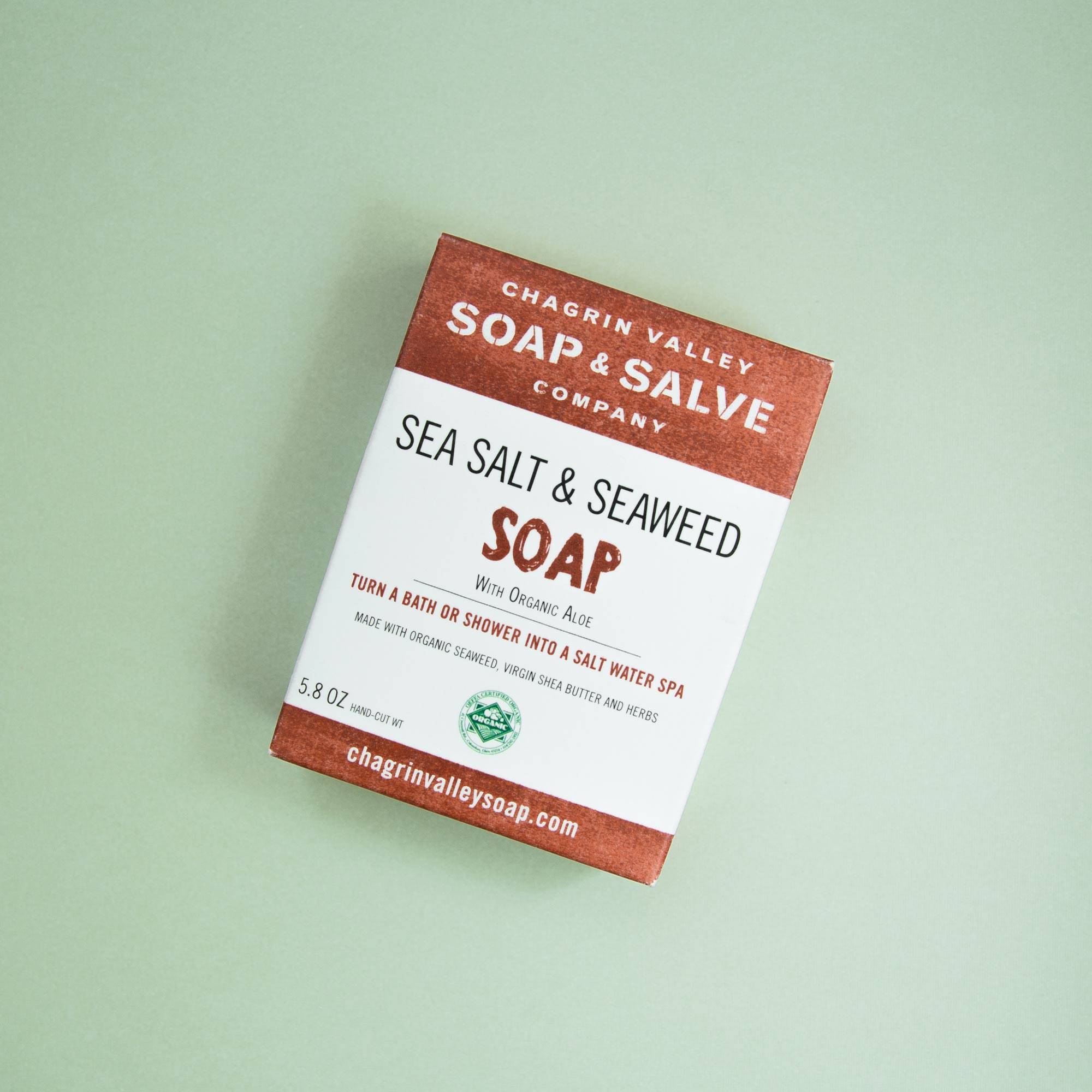 Chagrin Valley Soap & Salve Sea Salt & Seaweed Soap

Ever notice how wonderful your skin feels after a dip in the ocean or sea water? This Sea Salt & Seaweed soap turns your tub or shower into a sea water spa. You deserve this treatment! After your bath or shower your skin will feel silky smooth, soft, and have a healthy glow.
This unusual soap containing 50% salts, moisturizing Shea butter, and nourishing seaweed, gently polishes and moisturizes your skin. Salt rubs have been used for centuries for cleansing and revitalizing dry skin. Seaweed, rich in minerals, vitamins, amino acids and trace elements, contains practically every mineral found in seawater; a concentration virtually identical to the minerals found in human blood. The essential oil blend is uplifting and refreshing.
Tip: Keep bar of soap on a soap dish away from consistent water contact to improve longevity of your bar.

Organic Coconut Oil, Mediterranean Sea Salt, Organic Virgin Shea Butter,Organic Babassu Oil, Himalayan Pink Salt, Water, Organic Castor Bean Oil,Sodium Hydroxide, Organic Aloe Vera, Organic Seaweed, Kaolin Clay, French Pink, Organic Parsley, Lemongrass Essential Oil, Rosemary Essential Oil,Organic Lavender Essential Oil, Peppermint Essential Oil, Spearmint Essential Oil, Organic Rosemary Oil Extract (ROE)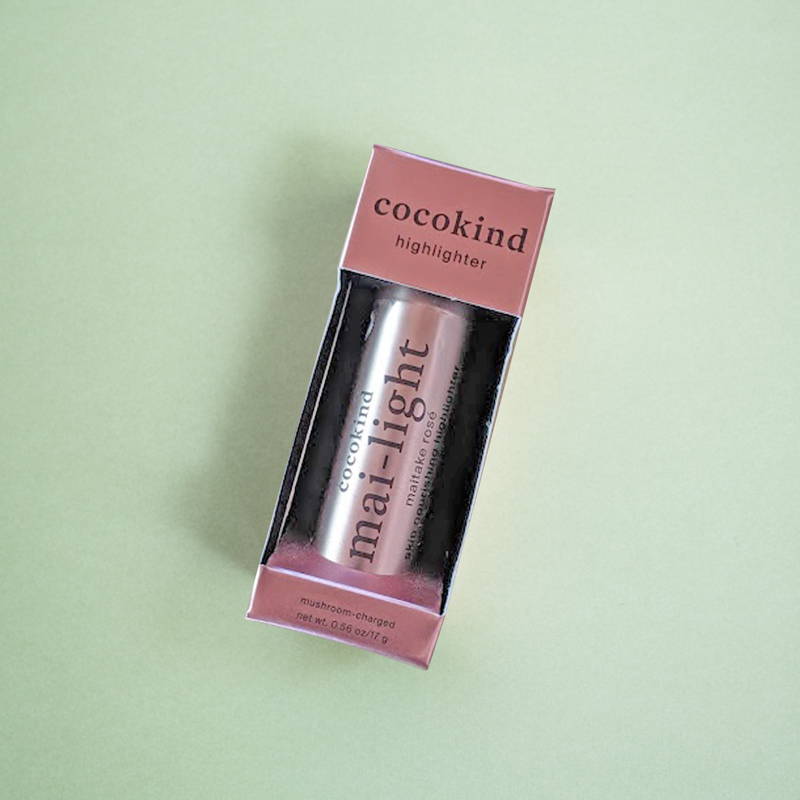 Cocokind Mai-Light Highlighter

A highlighter stick that delivers on-the-go radiance, without looking overly sparkly. Made with 100 percent vegan ingredients, this easy-gliding rosé-hued highlighter uses the power of organic maitake mushrooms to protect against environmental stressors and free radical damage, while stimulating collagen production and improving cell turnover.
Tip: Glide onto cheeks, brow bone, eye lids, or body for a fresh glow. use fingertips to gently tap and blend into skin.

*castor seed oil,*jojoba seed oil, sunflower seed wax, *mango seed butter,*maitake mushroom powder, mixed tocopherols, *rosemary leaf extract, *calendula extract, mica, titanium dioxide, iron oxide*certified organic ingredients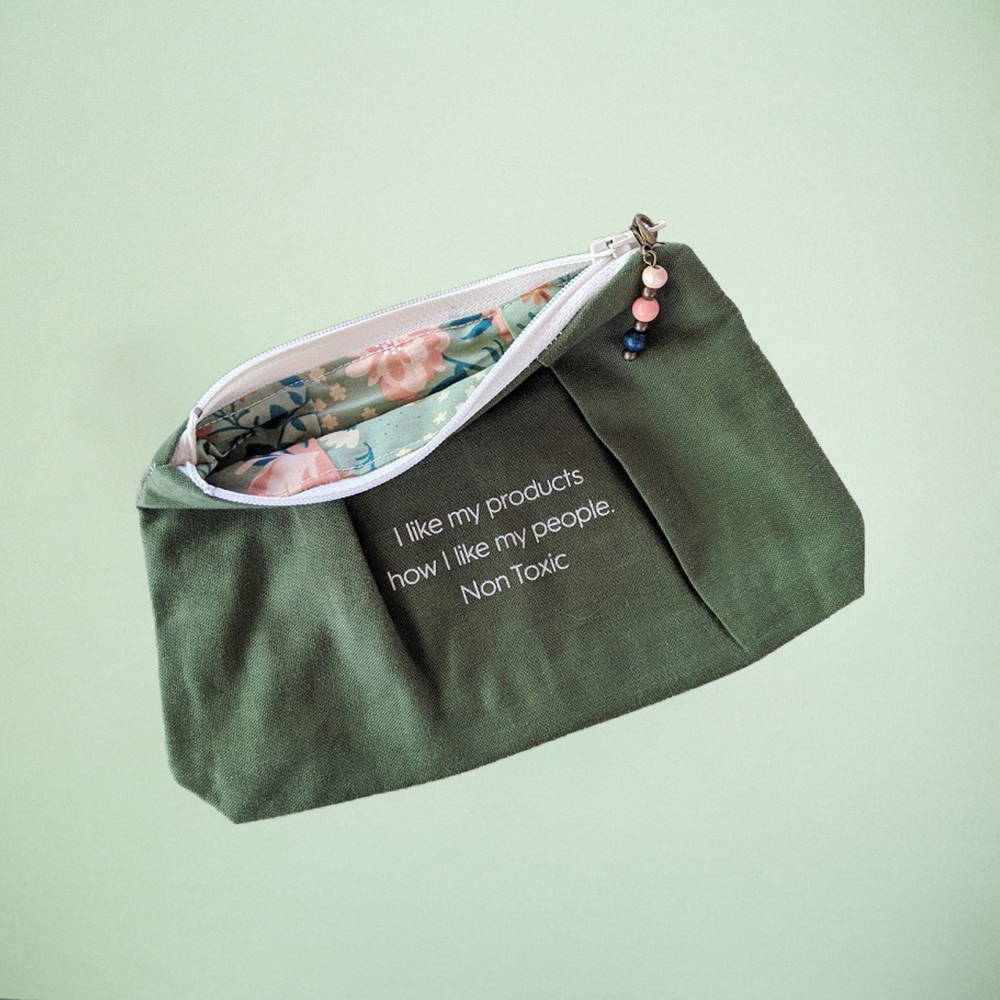 Make a statement with this adorable organic hand-made bag. The outside is forest green and the interior is an antique mint peonies print that adds a perfect feminine touch. The beads and bronze hardware finish it off to be a unique and classic make up bag. "I like my products how I like my people. Non Toxic." aligns with our mission as we launch our second Fertility Wellness Box. This bag was hand-made by Claudia from ClaSha Boutique in Chicago.
Tip: It is overwhelming to change all of your make up at one. We suggest choosing one at a time. Foundation/compact, mascara and lipstick would be a great start!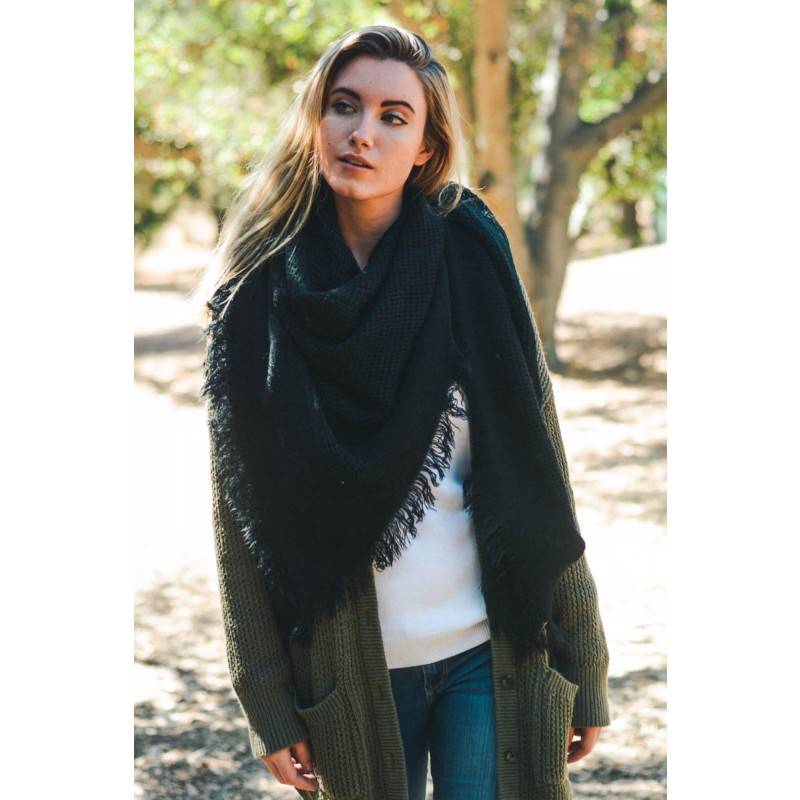 Black Open Weave Square Scarf
This black square scarf is the perfect addition to your Fall wardrobe. Black always makes you feel polished and sophisticated, so accessorize and feel confident on your journey! This simple accessory can pull together a casual t-shirt and jeans , dress pants and a blouse, and is also great to throw on when relaxing around the house in casual wear. The woven patterns add more texture and dimension to this simple scarf.
Tip: option 1-Fold in half and place ends behind your shoulders, wrap ends around to the front of neck and tuck under scarf to secure. Option 2-Fold in half and tie in a knot and place over shoulders. Option 3-Wear as a shawl.